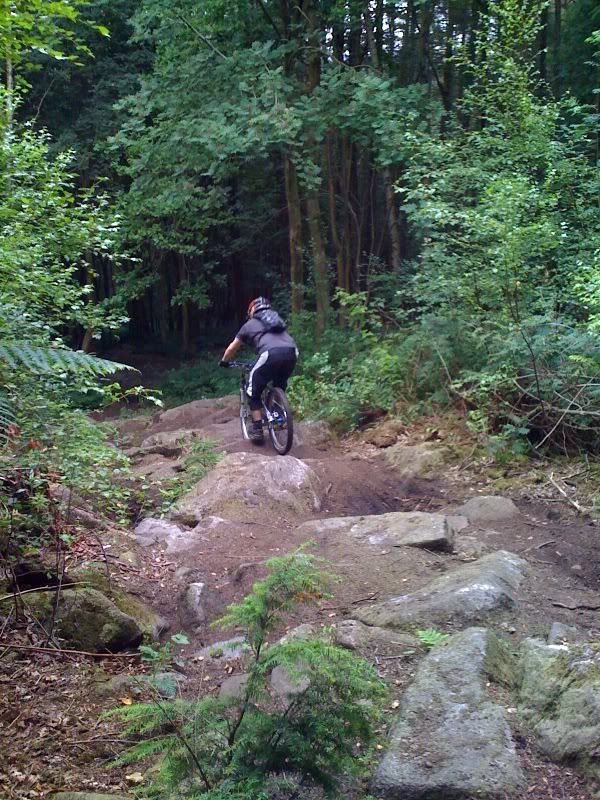 Gareth (friend from when I used to work for Nationwide) emailed me a few weeks ago asking if I wanted to ride 'someplace' on 28th and after a bit of searching about, and trying to locate somewhere that was under 2 hrs away and had an uplift service (this failed) we decided on 'Shining Cliff Woods in Ambergate, near Derby. I'd been there a few times before and although the trek from the car park (read poorly surfaced lay by on a very steep hill) is about 500 MBUK miles from the trails, it's worth it. The place is full of big boulders and roots and jumps and drops and berms and steepness.

The trails are 'semi official' and it seems that the riders have built up a good rapport with the locals and keep the trails to the bits you wouldn't want to walk up anyway.

After a long ol' slog on the M1 (speed limits enforced by average speed cameras, further enforced by a Mercedes having a blow out and bringing the north bound side to a standstill for about 15 minutes!) we arrived and set off down the newly smoothed out path and past all the derelict warehouses and factories. After several ups and downs we eventually reached the bottom of the main trails and set off up the track.

It was at this point that I was glad I hadn't brought my body armour (although I usually wear it here due to the many pointy rocks!) and Gareth was regretting it big time. Although it was still a touch overcast from the morning's fog, and the light was pretty poor in the woods, it was like a tropical garden in there. I could have showered in my sweat (probably).

Anyway, for a warm up we headed off down one of the swoopy, bermy and rooty tracks and ended up using about 10 different tracks on the way down as I entered corners with a little too much speed and ended up coming out of them on the wrong line, onto a different line. No matter though, they all end in the same place!

We slogged our way back up the hill for another run, choosing a rootier jumpy track that's just flat out fast fun and after a few runs decided to head right to the top. Where it gets all rocky and steep! Some of the lines up the top are just insane. Steep corners on rocks, steep corners on rocks that have roots randomly growing inbetween them with trees as crash barriers… There are a few different options up here but I think my highlight is the trail that ends in this rock garden:



Before hand there are a whole bunch of rock gardens that you really have to commit to 100%. If you go in too slow you'll stall and end up with a rock to the face… Pinning and just holding the front wheel straight and trusting your tyres and suspension to do the work was the way to do these.

After this we found a few more trails, with a sweet little drop onto a fireroad then off onto another trail with a steep bombhole and a rock garden that's a good 2 or 3 feet of the ground… (???).

Our stomachs started complaining so we gave in and headed back to the car… only to get 75% of the way there for Gareth to realise he'd lost his goggles! Off he sprinted back up the hill only to return a few minutes later empty handed.

We fed and monster'd ourselves whilst Gareth reflected on the loss of his trusted goggles, "it gives me an excuse to buy some new ones". Tsk tsk!

We figured we'd have a more thorough search after lunch just so we could feel happy we tried but this was fruitless so we carried on riding for another hour or so.

Utterly spent from sweating and pushing and sweating and pushing and swe.. yeah you get the idea, we took a final run down the fast jumpy track (although just in case we didn't announce it was the last until we'd both safely made it to the bottom!) and blasted back down the fireroad to the car. Despite all the rock gardens with the tightly packed mech eating rocks, it was here that I got my only battle scar for the day… whilst flying down a particularly loose fireroad (back wheel getting a bit frisky) I heard some rock slam against the rim, taking a little groove out the side. Not bad, considering!

The day was topped off nicely by a pair of walkers approaching us and asking, "are these your goggles, by any chance?" Talk about timing and good fortune!

Overall the day was awesome, with some epically bumpy but fast and flowing trails. You also really get a feeling here that everyone (walkers and bikers alike) all get along.

Recently I've been feeling on a bit of a downer with DH, and begun to feel a bit despondent about it as I started to ride with less and less confidence. I started to feel utterly frustrated that I don't even attempt stuff when riding DH whilst I don't get this problem when riding my little XC hardtail. I even considered quitting and just sticking to 'XC' or whatever that thing is when you just get on your bike and go for a ride someplace that doesn't require as much pushing as riding but today firmly put a stop to these thoughts. The Judge excelled, really eating everything I threw at it and for the first time since I've had it, it actually made sense. When riding the rock gardens and aiming for that pointy rock that will give a little kick to clear the next few rocks or holding it straight and true through the tech fests I was reminded of why I love DH so much. There's still one jump there I wouldn't try but next time…!

Posse: Dangerous Dave (Cannondale Judge DH), Gareth (Kona Coiler)
Weather: Foggy early on with the sun making an appearance later on. No breeze and toasty warm
Mechanicals: Warped disc caused irritating squeak on push ups but everything else stayed attached
Injury none!

Dangerous Dave is back, and now planning to ride every knarly DH track I can seeing as I'm not going to France this year!