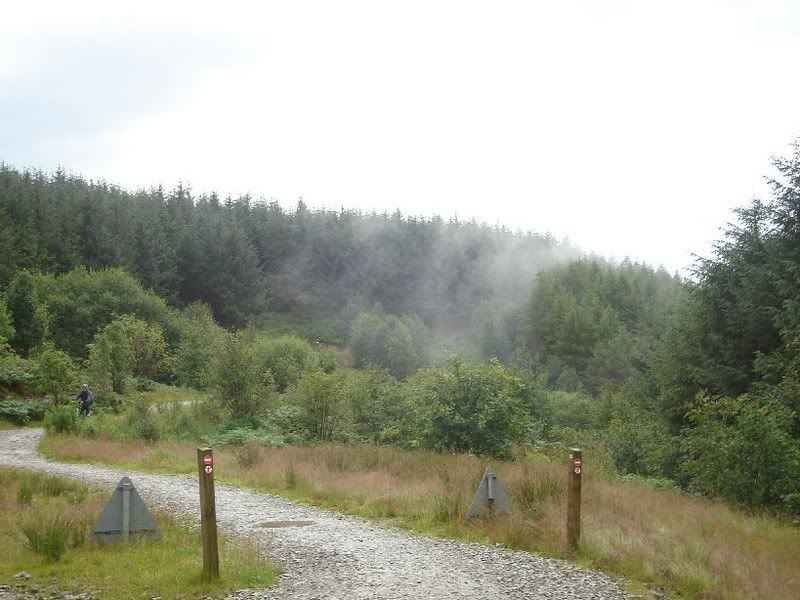 Mr & Mrs Dangerous get wet and dirty in Wales.

We'd not been riding together for a while so we decided it was time to get out on our bikes and go for a good ride somewhere... thought of Cannock "mudfest". I also thought of Afan and Coed y but figured this would be a bit of a bound too far for Anna as she's still finding her feet/pedals?

Finally settled on Coed Llandegla, not far from Wrexham. I was quite keen to see why so many people rate it - I'd ridden here earlier in the year for a mates stag do, but I hated every second of it. I was mis advised to bring my Gemini, as apparently "it was worth it" (it was not - lugging round a 38pounder with a 38th and a roadie cassette was not fun - no reward for carrying around the 8", by the time I came to use it I was too knackered to get it's full worth). However, I do remember it being quite smooth, and one of those places that is as technical as you make it, so I figured it'd be a good introduction of Welsh trails for Anna.

We left a bit later than intended - found some last minute mechanicals and I had to get petrol, but we made good time, getting there sometime before 1 o'clock, with a journey time of 1hr 45 mins. Our food took forever to arrive so we set out pretty late in the end so we opted for the shorter Red Run.

The heavens opened up and went to town with it just as we were setting off on our ride, but after driving 138miles to get here, we were bloody well going to ride! We'd not gone 100yards before my back tyre mysteriously deflated; pumped the blighter up but it kept going down. I couldn't be arsed to stop and sort it so we trudged on up the fireroad climb all the way to the top.

The climb isn't too bad, it is only a fireroad so it isn't the most exciting climb, but it serves as the climb for all the routes so it can't be as technical as say the new first climbing section of Coed y Brenin. It weaves its way through the trees with a nice amount of flow, and the surface is rocky enough at times to keep you from falling asleep at the bars. It's not to steep, doesn't take too long and gets you to the top with out giving you a heart attack.

We stopped for a quick breather and to examine my tyre - turns out the tubeless valve was loose and leaking air out through the spoke holes! I was running my "4x" tyres, Maxxis Larson TT's. Not my usual trail gobbling 2.35'' Super Tacky High Rollers but I couldn't be bothered to change them. And despite the relatively hard compound, they were awesome. They rolled so fast it made getting speed up for the doubles was a breeze, and gripped on all surfaces with no problems... only it made for stark contrast from the 2.5" equipped, 8" travel monster that I'd been riding for two weeks.... Might bring those to Afan, if I do, expect to see me - gone.

This is where the fun really begins: it's pretty much all downhill, with the odd climb to send you down the next awesome bit of trail. I cannot express just how fast this trail is, I found myself literally whooping on sections. Bermed corners in the middle of a thick plantation of ferns, berms that wouldn't be out of place on a Downhill course - the sort you can really lean the bike over and just rail it round, the sort that spit you out with more speed than when you entered it. Then theres the jumps - table after table, after table. All flowing into each other, no funny take off's that lob you off your bike, flat corners you can put you foot out on and just believe for that one moment you're the Sam Hill that shamed the worlds finest at Champery, then there's the odd boulder you gotta watch out for... all the while, just rocky, and rooty enough to feel your squidge earning it's keep.
Can't not mention the scenery - it's, as always, incredible.

Simply put this trail is just pure fun. It's always surprising you with just one more berm, or one more tight twist in the singletrack, and you can blast round in hardly any time, leaving you plenty of time to go again - because you'll want to. Definitely worth a visit, to get your adrenaline gushing, learn some new skills, and not murder yourself on a killer loop.

Route Distance (Red) 11miles - the black takes diversions off this and totals up 13miles, while there are other routes to suit families, or those still not willing to partake in the north shore/jumps. We even found big swooping berms on the end of the Blue route!!!
Posse: Dangerous (Chammer), Mrs Dangerous (smaller Chammer)
Mechanicals: Leaking tyres, Anna had trouble with her gears - new cables methinks. Weather: torrential downpours!

Anna managed to cope very well - only opting out of some of the northshore stuff, (she had a moment with her front tyre early on in the ride on a piece of northshore)And I think may have been a little scared by the size of some of the berms! Think Anna was a little surprised by the rocky surface but was soon happily floating over it - she's definatly got the bug!!! I was very impressed, and we'll be going back again, hopefully having more time next time.